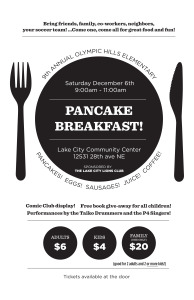 The Lake City Lions Club hosts their 9th Annual Pancake Breakfast for Olympic Hills Elementary on December 6, 2014
When: Saturday, December 6, 2014 9:00 am – 11:00 am
Where: Lake City Community Center, 12531 28th Ave NE, Seattle
Tickets for the breakfast are $6.00 for adults; $4.00 for children, to be purchased at the door.
The Lake City Lions Club are once again sponsoring a Pancake Breakfast to raise funds for Olympic Hills Elementary School. The breakfast takes place at the Lake City Community Center and will include pancakes, turkey sausage, eggs, juice and coffee. Live entertainment provided by the Taiko Drummers and the P4 Singers; a Comic Book Club display, and a book give-away for all children.
Olympic Hills Elementary is a small, neighborhood school with a wonderfully rich and diverse population of students, representing 30 different countries and 18 languages. Their vision for the community is for all its members to embrace and value the worth, dignity, and diversity of all people. Their commitment is to provide a differentiated and rich educational program that promotes self-respect, respect for others, encourages social responsibility, and prepares students to be intrinsically motivated leaders in an interdependent global community.
The Lake City Lions Club has supported a number of local schools over the years and is part of an international service organization founded with a desire to serve their community. The club has many fundraising projects for both adults and children alike and meet the 1st, 3rd and 4th Tuesday of every month.