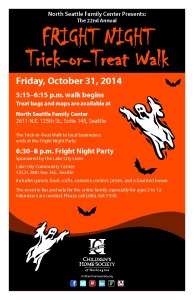 As with many elementary schools in the area, costumes are not allowed on Halloween at school. If you're looking for a place to show off your costume, trick or treat, and enjoy a family friendly party, then check out Fright night!
FRIGHT NIGHT Trick-or-Treat Walk
Friday, October 31, 2014 5:15–6:15 p.m. walk begins.
Treat bags and maps are available at North Seattle Family Center 2611 N.E. 125th St., Suite 145, Seattle.
The Trick-or-Treat Walk to local businesses ends at the Fright Night Party.
Fright Night Party Sponsored by the Lake City Lions: 6:30–8 p.m.
Lake City Community Center 12531 28th Ave. N.E., Seattle.
Includes games, food, crafts, costume contest, prizes, and a haunted house. The event is fun and safe for the entire family, especially for ages 2 to 12.