This page contains links to materials created and collated by our wonderful OH educators. Check back often for updates.
Art
Our amazing art teacher Ms. Smith has her own YouTube channel with wonderful art lessons for all grades. Check it out! Thank you Ms. Smith for making these!
Here's a fun art project with materials from nature! Thank you Ms. CJ! You can create your own nature art like Andy Goldsworthy does. Check out this link! In the back yard or on a walk, the kids can make a collection of leaves or rocks and arrange them to make something really beautiful! Send us a picture of your art work at olympichillspta@gmail.com!
General
Olympic Hills Computer Lab Resources; free learning apps for math, reading, science etc. assorted by grade level. Most students have used these resources in the lab with Ms. Nuzhat.
Cooking
Thank you Ms. Frankie and Ms. Evelyn (Hunger Intervention Program) for these tasty ideas from the After School Cooking Club! Here are some fun recipes to make as a family using mostly shelf-stable ingredients that you might have on hand or that are easy to stock up on.
For a healthy treat: First, wash your hands! Then in a large bowl add 1 cup of nut or seed butter (we recommend peanut butter or sunflower seed butter), 1.5 cups oats, 1/4 cup maple syrup, and 2 tablespoons of dark chocolate chips. Mix everything with hands and roll into balls! You can also sub chocolate for raisins or other dried fruits.

Dinner/lunch: Pita pizzas is a great way to make pizza using few ingredients while still getting those healthy veggies in. Prepare bowls of chopped veggies such as tomatoes, zucchini, and spinach and then create your own personal pizza by spreading tomato sauce on the pita bread and adding veggies. Sprinkle cheese on top and bake for 8-10 minutes in the oven. This is a great recipe to make with the whole family.

Other healthy snack ideas for kids: Banana and peanut butter sushi using whole wheat wraps (spread peanut butter onto wrap, add whole banana, roll up, and then cut into sushi sized rounds). OR baked chickpeas with various seasonings (bake for 20 minutes in the oven after tossing chickpeas in oil and spices)
Math
OtterTube has math! Check out the videos by following the link. Thank you teachers!
Click on the download links below to try out some fun math games! There's a lot to learn with a deck of card or a pair of dice! Thank you Ms. Pence for finding and sharing these! Remember to check the School Supply Station for dice and cards if you don't have some at home!
Physical Education
Olympic Hills Physical Education Facebook page created by Ms. Meyer and Ms. Stephenson; ideas about staying active and some videos with activities and work outs.
NEW! Follow this YouTube channel for regular videos with Ms. M. and Ms. S. to help you stay active! Go Otters!
NEW! Weekly Basketball Workout from our after school enrichment vendor One on One Basketball. These are all exercises and drills that kids can do alone during quarantine, and we hope it can help kids stay active and help families stay sane and healthy. All you need is a basketball and a can-do attitude. Thank you coach Stu!
Reading
NEW! OtterTube; listen and watch the OH staff and community members read their favorite picture books, poems and chapter books. This amazing resource gets updated often – check it frequently!
NEW! Check out the Olympic Hills Virtual Library! It includes links to Seattle Public Library and how to use Library Link. There are links to summer reading lists for all grades, Tumblebooks, and Ottertube. Lots of links to get our kids reading and listening to books. Please share with your students and families. And please let Ms. Rahmn (amrahmn@seattleschools.org) know if you have questions!
Seattle Public Library digital resources. Thank you for sharing Ms. Nancy!
Materials for early readers K-1! Please download the files below for strategies and cards to use! Thank you Ms. Julie! You can also watch this short video to see how Ms. Kozu uses Sight Word Cards and the read-spell-read strategy! Thank you Ms. Kozu!
How to Support Your Early Reader? has advice on how to practice early reading skills with your student. Sight Word List is the 89 words that students need to learn in kindergarten and first grade in Seattle Public Schools. Letter Cards document is great because it includes visuals and students can practice letter and sound practice. Letter Match is great to make a matching game or flash card game.
NEW! Kindergarten Sight Word Practice with Ms. Kozu: Red Sight Words, Orange Sight Words, Yellow Sight Words, Green Sight Words and Blue Sight Words.
FREE books! Pick up or drop off books at the free lending library set up outside the cafeteria doors at Olympic Hills Elementary. Books are available every day, all the time! Thank you Friends of Seattle Public Library and all families and neighbors who have donated books!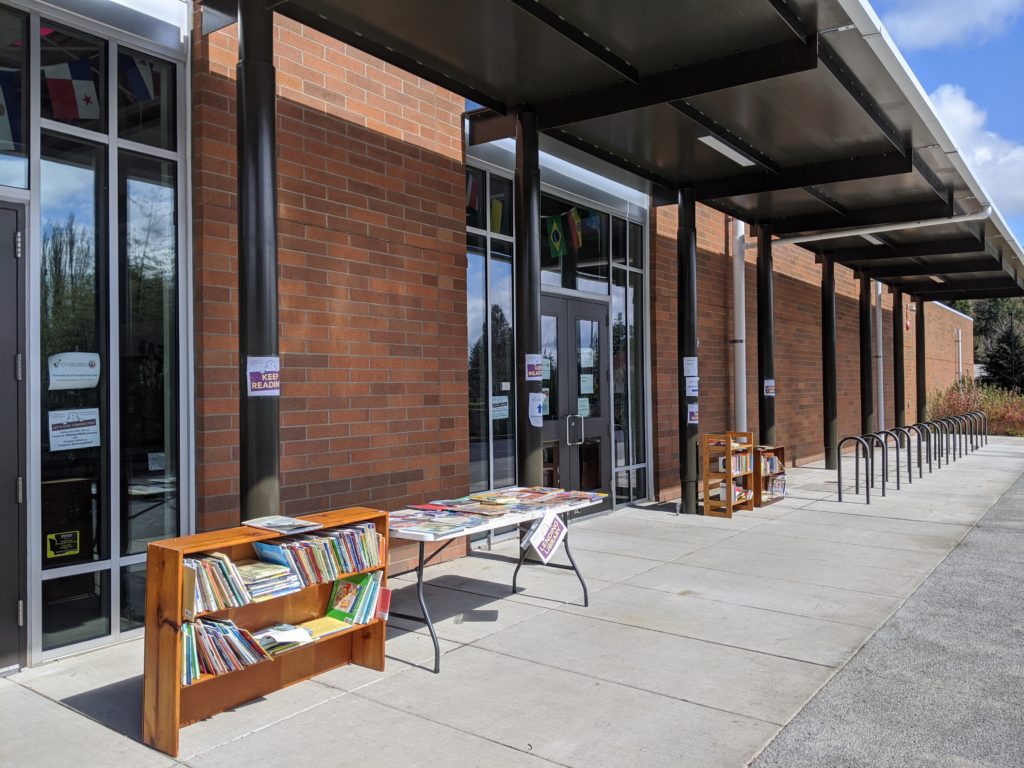 Science
NEW! OtterTube now also has science lessons! Once you're there, click on videos and scroll to find the one that looks interesting! Thank you teachers!
Thank you Ms. Kristin for sharing these fun ideas from Engineering Exploration After School Club.
In Engineering Exploration after school club we did a lot with states of matter. It'd probably be fun for kids to learn about non-Newtonian fluids. Here's a link to the read aloud book for "Bartholomew and the Oobleck" by Dr. Seuss https://youtu.be/r9bo5N2N5zI and here's a fun kid friendly lesson on how to make your own oobleck and non Newtonian liquids: https://youtu.be/Fnd-2jetT1w definitely a fun stay at home project!
We were also going to talk about magnetism and polymer chains and make some magnetic slime to play with. Below is Ms. Kristin's recipe. You can get iron oxide powder and neodymium magnets pretty easily from Amazon, but if you don't have them, you can always replace the iron oxide powder with something else fun like a tiny bit of food coloring, glitter, styrofoam bits, dirt/sand, really whatever you want. It won't be magnetic, but it will still be totally cool and fun to play with! Adding a little less than a cup of foam shaving cream makes "fluffy" slime. You can just add whatever material you want to experiment with in the slime when you would add the iron oxide powder in the recipe below.
Liquid starch – We used Sta-flo Liquid Starch.
Elmer's glue – we used white glue, but the clear might also look cool! This is PVA glue.
A bowl for mixing – it does wash out.
Plastic spoons for stirring
A 1/4 cup measuring cup
A 1 Tablespoon measuring spoon
A neodymium (rare earth) magnet – A regular magnet won't be strong enough.
Step 1: Pour 1/4 cup of white PVA glue into your mixing bowl. You may have to use the spoon to scrape all the glue out of the measuring cup.
Step 2: Add 2 Tablespoons of iron oxide powder. Stir well.
Step 3: Pour in 1/8 cup of liquid starch.
Step 4: Stir the glue and starch mixture really well to make sure that it's all mixed. As soon as you begin to stir, the starch will react with the glue and the slime will start to form.
Step 5: Knead the slime with your hands. I find that it helps to wash my hands after kneading the slime and before playing with it. This helps to make the slime less sticky.
Troubleshooting:
If your slime is too sticky (glue-y), knead in a tiny bit more starch. If it's too stringy, knead in a little more glue.
If your slime does not respond to your magnet, the problem is the strength of your magnet.
Social Emotional Skills
These are times of many challenges for everyone in the family. And they are also times that are full of learning opportunities. Ms. Paulina, the school counselor, would like to invite your child to connect with her and let her know how they are doing. Through this link your child will be able to access a few questions that will allow them to reflect on their feelings and some of the self regulation resources they already know and may be able to use during these challenging times. Please feel free to help your child if they need you to read the questions to them.
Espero sinceramente que se encuentren bien. Este es un tiempo de muchos desafíos para todos en la familia. Y también es un tiempo que esta lleno de oportunidades de aprendizaje. Les estoy escribiendo porque me gustaría invitar a su hijo/hija a conectarse conmigo y contarme como han estado. En el link ellos podrán contestar algunas preguntas que les ayudaran a reflexionar sobre sus sentimientos y sobre algunas herramientas de autorregulación que ellos probablemente ya conocen y que pueden ayudarles en estos tiempos. Usted puede ayudarle si su hijo/hija necesita su ayuda para que le lea las preguntas. Espero saber de su hijo/hija pronto, Saludos afectuosos, Paulina Cuevas-Vega
Counselor's Corner. Make sure you check the Counselor's Corner regularly for NEW post with new resources!! Scroll down to find NEW posts. Asegúrense de revisar regularmente la página de la escuela, Counselor's Corner para ver las publicaciones NUEVAS con recursos! Busca abajo que hay de NUEVO.
Greetings from Ms Paulina (for students) / Saludos de Ms. Paulina (para estudiantes)
Greetings from Ms. Paulina (for the families) / Saludos de Ms. Paulina (para las familias)
Self Regulation 1: How does our brain work? "Brain in the Hand" Model. (Explanation for students) / Autorregulación 1: cómo funciona nuestro cerebro? Modelo del Cerebro en la Mano (Explicación para estudiantes)

Self Regulation 1: How to use Daniel Siegel's Brain in the Hand Model to support the development of Self Regulation skills in your family (Explanation for adults in the family) Autorregulación 1: Cómo usar el modelo de Daniel Siegel "El cerebro en la mano", para apoyar el desarrollo de las habilidades de autorregulación en su familia.
Read aloud of the book: Jared's cool out space, (bilingual English-Spanish) Through this book, you and your family will learn more about what a calm down space is, as well as how to create a calm down space at home, using your own ideas.

Conversations about feelings. This video is an invitation for you and your child to engage in conversations about feelings. Becoming more knowledgeable about feeling words is an important part of the self regulation process. By continuing to learn and add feeling words to your children's vocabulary, they will have more resources to recognize, name and regulate their feelings. According to Dr. Daniel Siegel, one of the important steps in the process of self regulation, is the ability to recognize and name our feelings, in his words: "name it to tame it". I invite you and your child, to check this video (Spanish subtitles available). Please feel free to reach out to me or your child's teacher with comments or questions.
Conversaciones sobre sentimientos: Este video, Es una invitación para que ustedes y sus hijos se involucren en conversaciones sobre sentimientos. Adquirir más conocimiento sobre palabras que describan sentimientos, es una parte importante del proceso de autorregulación. Continuar aprendiendo y agregando palabras al vocabulario de sus hijos, para describir sentimientos, les hará más fácil reconocer, nombrar, y regular estos sentimientos. De acuerdo al doctor Daniel Siegel, uno de los pasos más importantes en el proceso de autorregulación, es la habilidad de reconocer y nombrar nuestros sentimientos. En sus palabras: "nombrarlo para dominarlo". Los invito a ver este video (pueden activarse subtítulos en español). Por favor siéntanse en confianza de hacerme llegar sus comentarios o preguntas a mí o al profesor/a de su hijx.
Tips for adults to continue supporting your family in developing and nurturing the social emotional skill of SELF-REGULATION. There are two videos, Talking about Feelings – Tips for Families with Spanish subtitles and Espacio de la Calma – Cómo crearlo en Familia with English subtitles.
NEW! This week I'm sharing with you some ideas and resources for you to work on establishing routines with your children at home. Routines are very important because they bring predictability and predictability reduces anxiety.
Furthermore, getting your children involved in making their own routines charts, allows them to feel capable and empowered, at the same time that encourages independence.
NEW! Esta semana quiero compartir con ustedes algunas ideas y recursos de cómo establecer rutinas con sus hijos en su hogar. Las rutinas son muy importantes, porque traen predictibilidad, y la predictibilidad reduce la ansiedad.
Invitar a sus hijxs a involucrarse en hacer sus propios cuadros de rutinas, les ayuda además, a sentirse empoderados y capaces, al tiempo que estimula la independencia.
EXTRA RESOURCES / RECURSOS EXTRAS
Dr Daniel Siegel presenting a Hand Model of the Brain
Kid Friendly version of the Hand Model of the Brain
How to teach Brain in the Palm of the Hands to kids